CHILDREN
A fun place for kids birth-6th grade,while experiencing God's Love and Power.
Nursery Ages 0-36 months
Sunday School Classes for age 3–6th grade
Kids Church 11am service Age 3-1st grade
Kids join parents for beginning of worship in the sanctuary, and are then escorted to the kids program downstairs.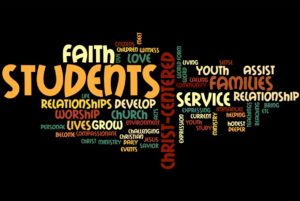 FOCUS Youth Group
the place for
high schoolers,
"
Fixed Ophthalmologically on Christ, United in Service"
Hebrews 12:2 ­ Let us fix our eyes on Jesus.
Sundays, 6-8pm
in the Youth Room
Singing, praying, discussing and studying God's Word, and snacks!
Fusion Middle School Youth, 6th-8th grade
One Sunday per month, 6-8pm
Fun, Fellowship, and most of all, learning about Jesus.
Sunday Morning Bible Studies
9th-12th grade
Sunday mornings, in the Youth Room
Thought-provoking lessons await you!
Confirmation
7th & 8th grade
Sunday mornings, in the Confirmation Room
Learn about the Evangelical Free Church. Students also learn
what it means to become a follower of Christ.
This program is also open to other ages.