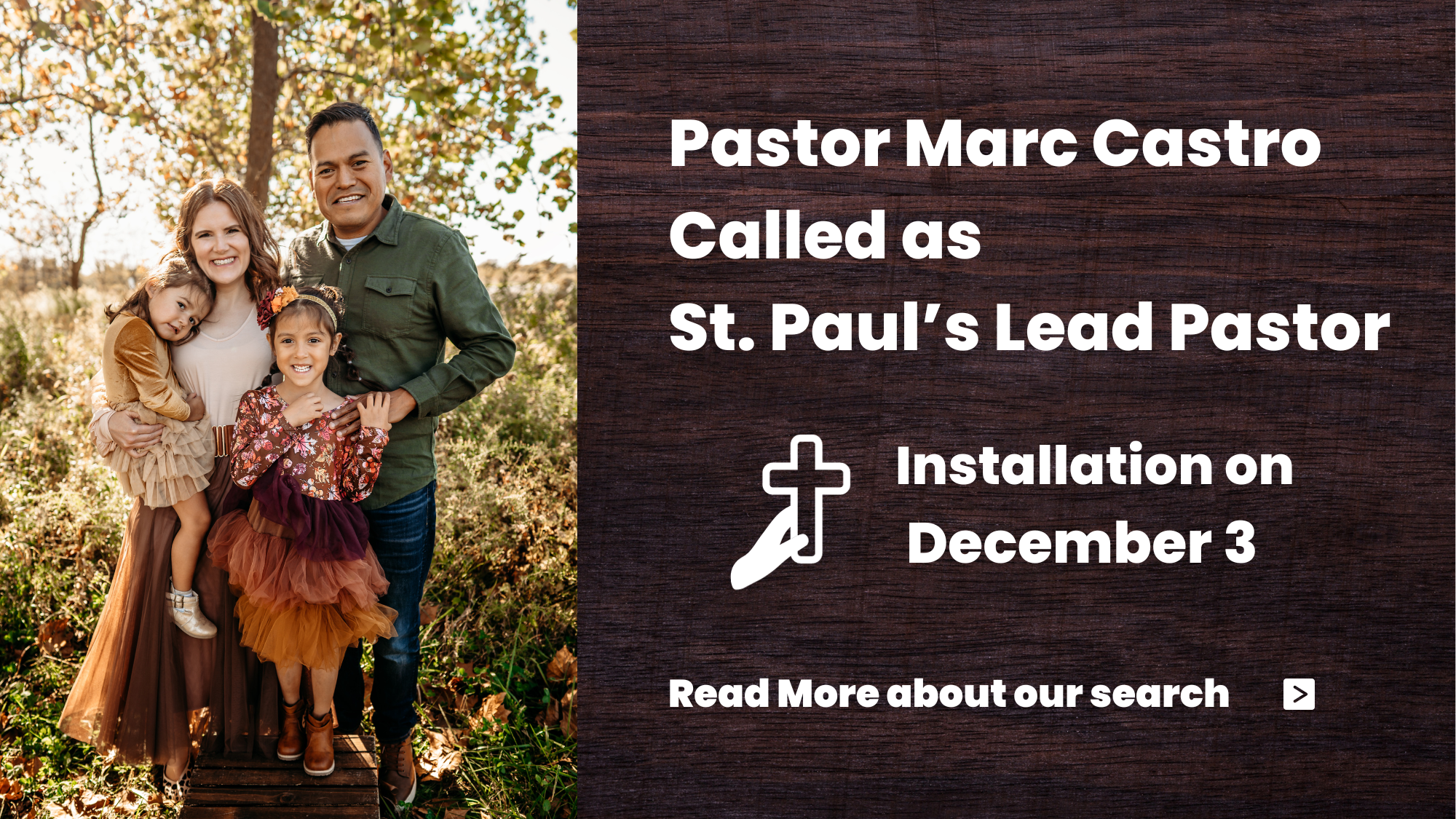 We
have now FINISHED our pastoral search process! The Pastor Search Team along with the Church Elders voted to present Pastor Marc Castro as the candidate for St. Paul's Lead Pastor. The Search Team announced their recommendation at the Church Picnic on September 17th. Information about Pastor Castro was sent to the congregation soon afterwards and can be viewed in the

October 2023 Newsletter

. Pastor Marc Castro was invited to preach on Sunday, October 1st. This was followed by a congregational meeting, where St. Paul's members voted by 96% to call him as our Lead Pastor. Pastor Castro will be installed at St. Paul's on December 3rd. We want to welcome him, his wife Andrea, and their two girls to our family here in St. Louis.
What a wonderful conclusion of our long pastoral search! It is our hope that this search process will help make St. Paul's a stronger church that is ready, under the direction of this new pastor, to reach out to our community so that God will be increasingly honored as more and more people discover the good news of Jesus Christ.
Steps Previously Taken in the Pastoral Search Process
In this initial stage our Interim Pastor began to understand and evaluate our ministry. He conducted listening interviews to establish relationships, build rapport, create trust, and discern key issues that may need to be addressed.

A Transition Team was formed to help guide the church through our transition and toward health and greater effectiveness for God's work. The entire church and Transition Team worked together to identify past successes and unhealthy patterns. After a period of information gathering from both the church and community, the Transition Team presented an assessment report.
The church determined how to address issues that were discovered and action steps were planned and taken to remove obstacles that could prevent fruitful ministry.
The Transition Team and congregation developed, clarified, and strengthened the corporate identity of the church. Seeking unity and inspired by Christ, we defined our mission, vision, and core values by answering three basic questions: who are we, where are we going, how will we get there? These answers can be view on the Mission & Vision Page.
Church leadership appointed a Pastor Search Team. The team interviewed many people to developed a profile of what qualifications we are looking for in a Senior Pastor and to create a profile of St. Paul's Church to help pastoral candidates get to know who we are.
Stage 5:
The Pastor Search Team posted the Senior Pastor position on several pastor search sites. They received and reviewed between 30 – 40 applications, pouring over the documents they received and watching many online sermons. The field was narrowed to a few applicants who were then interviewed in more depth. The committee met many times to discuss and pray over each step of this process. Once they decided on the best candidate, they presented their recommendation to the Church Elders.