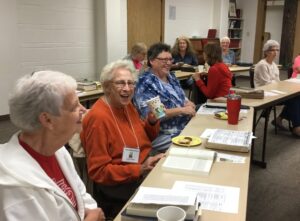 Wednesday Morning / 9-11 a.m.
This class is for women of all ages. It is a great way to learn more about your faith, and to meet and develop friendships with women, from St. Paul's and the community. The class runs from September to early May.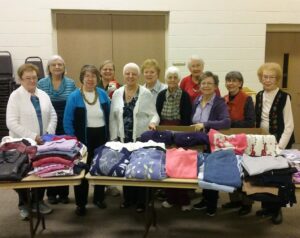 2nd Wednesday each month / 11:30 a.m.
This group meets for a sack lunch, dessert, and a program / lecture. They provide support for many ministries, including Kings Kids Camp and gathering items for children in need. Two highlight events of the year are the Mother/Daughter Banquet and the Christmas Glow Brunch.

Ever
y Tuesday
in the Auditorium / 9 a.m.

Besides doing traditional quilting, this group also creates machine stitched quilts.
They currently make quilts for Project Linus (children) and Quilts of Valor (veterans).
Even if you don't know how to quilt, there are many different jobs
that the ladies would be happy to teach you.

This group delivers a homemade shawl to people going through a serious illness. During the process of making these precious shawls, prayers are being said constantly for the intended recipient. The shawl
, will hopefully be a constant reminder of how much love and how many prayers are being sent their way.