e
Cc
FOR START-UP INFORMATION FOR THESE VARIOUS GROUPS
Women's Bible Study – Wednesday Morning/ 9-11 a.m.
This class is for women of all ages, September through May.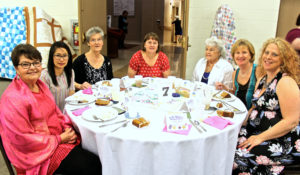 Lunch meetings the second Wednesday each month at 11:30.

delivers a homemade shawl to people going through a serious illness. During the process of making these precious shawls, prayers are being said constantly for the intended recipient. The shawl, will hopefully be a constant reminder of how much love and how many prayers are being sent their way.
monthly every third Tuesday morning, from 9 am – noon..

Ever
y Tuesday
in the Auditorium
This group has been meeting since 1892.
One of their special projects is machine stitched quilts for Project Linus.
Even if you don't know how to quilt, there are many different jobs
that the ladies would be happy to teach you.
m