We are now in Stage 5 of our pastoral search process. The Pastor Search Team has posted the Senior Pastor position on several pastor search sites and is now reviewing applications. Pastoral candidates who are interested in serving at St. Paul's can contact the team at jobs@stpaulsefree.org to ask questions or submit their resume directly to the Pastor Search Team.
It is our hope that this search process will help make St. Paul's a stronger church that is ready, under the direction of a new pastor, to reach out to our community so that God will be increasingly honored as more and more people discover the good news of Jesus Christ.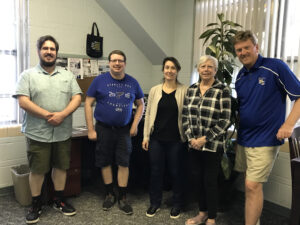 Our Pastoral Seach
Team includes:
Ben Gemignani

Greg Steimel

Maria del Cid

Barbara van Dyk

Marco van Raalten (Chair)

Lisa Stahlhut (not pictured)
Steps Already Taken in Pastoral Search Process
In this initial stage our Interim Pastor began to understand and evaluate our ministry. He conducted listening interviews to establish relationships, build rapport, create trust, and discern key issues that may need to be addressed.

A Transition Team was formed to help guide the church through our transition and toward health and greater effectiveness for God's work. The entire church and Transition Team worked together to identify past successes and unhealthy patterns. After a period of information gathering from both the church and community, the Transition Team presented an assessment report.
The church determined how to address issues that were discovered and action steps were planned and taken to remove obstacles that could prevent fruitful ministry.
The Transition Team and congregation developed, clarified, and strengthened the corporate identity of the church. Seeking unity and inspired by Christ, we defined our mission, vision, and core values by answering three basic questions: who are we, where are we going, how will we get there? These answers can be view on the Mission & Vision Page.
Church leadership appointed a Pastor Search Team. The team interviewed many people to developed a profile of what qualifications we are looking for in a Senior Pastor and to create a profile of St. Paul's Church to help pastoral candidates get to know who we are.