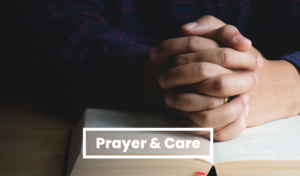 Prayer is one of the most important spiritual exercises for a believer and it is something that God commands us to do. It is a way of daily communicating with Him, praising Him, and lifting our burdens to Him. Here are a few opportunities for prayer at St. Paul's.
Prayer List in Sunday's Bulletin
The St. Paul's weekly bulletin contains an "Intercessory Prayer List" that is used by the many church prayer warriors in their daily prayer time. Please contact the church office to place a prayer request on this list.
Weekly Prayer and Care Meeting
(Tuesday at 1:30p in the Garden Room)
A group gathers each week in the Garden Room to pray for any concern or prayer requests that were sent to the church or that are on the "Intercessory Prayer List". Please feel welcome to join us as we lift these concerns to the Lord.
Monthly Prayer with the Elders
(Last Saturday of the month @ 9a)
The St. Paul's Elders invite any congregation members to join them at their monthly Shepherding Meeting. This will include prayers for the church as a whole and also for individuals who request to be lifted in prayer.
10 Days of Prayer
(September 15 – September 25, 2023)
10 Days of Prayer is a prayer meeting for 10 days that happens in St. Louis and simultaneously in over 300 cities and towns around the globe. The goal is a season where Jesus Christ is the focus of every heart for 10 complete days. Jonathon Friz, a former member at St. Paul's, is the driving force behind this movement. For more information check out their website.
Stephen Ministry (Get Care)

The Stephen Ministry Organization provides ongoing training, resources, and support to several of our caring volunteers so that they can offer one-on-one support and prayer to people who are experiencing a difficult time. Anyone who wants support while experiencing difficulties in life (which may include divorce, grief, death of a loved one, loss of a job, loneliness, hospitalization, terminal illnesses, etc.) could benefit from a Stephen Minister. Click the link below if you are interested in participating in this ministry.
YarnWorks

(Second Thursday of the month @ 1-3 p – off-site at member's homes)
This group of women lovingly knits or crochets baby blankets, shawls, hats and scarves for people going through a serious illness or difficult time. They invite anyone to join them, and are willing to teach you their craft. When finished, they prayers over these items and for those who will receive them. They want to provide the recipient with a continual reminder of how much love, support, and comfort Jesus provides during trials.