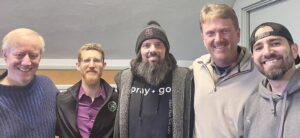 City Missions / Upper Room
Our city missionary, Marco van Raalten, is the Network Facilitator of Gateway Metro St. Louis, networking with many different churches in the St. Louis area to "Unite, Revive, and Reveal" the churches and ministries in the St. Louis area. To Learn more about what Marco is doing through Gateway Metro, check out his Pictoral Annual Report or one of his newsletters in the links below.

Marco also oversees St. Paul's non-profit incubator called the Upper Room, providing office space / connection for not-for-profits at a minimal cost. Pictured above from right to left are some of the participants: Michael Mc Clymond (theology professor SLU, Daniel Defonce (Rethink 315), Kurt Wilson (Pray for the Lou), Marco van Raalten and Eric Ross, Operation STL.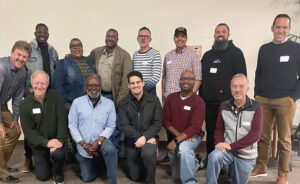 In order to fulfill the mission of uniting the church, St. Paul's Evangelical Church is also often used to facilitate network meetings. This large group, pictured above, is from a 'Network the Networkers' meeting held at St. Paul's recently. One of the first fruits of the networking is the 'Oikos' group, representing leaders who are affiliated with 600,000 believers across the Metro area. Louis. To learn more about how Oikos is working to provide affordable housing in St. Louis, check out the link below.